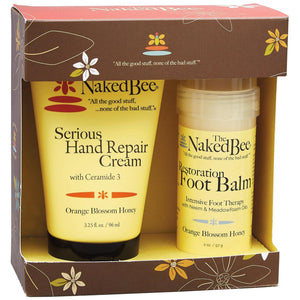 Orange Blossom Honey Hand & Feet Gift Set
Treat yourself to this Naked Bee Hand & Foot Repair Kit and enjoy moisturized hands and silky soft feet.
Featuring a delightful orange blossom fragrance, these skin care products pamper and protect each time you apply them to your skin. Enjoy all of the good stuff and none of the bad stuff with Naked Bee products.
Naked Bee skin care set includes 1 Serious Hand Repair Cream and 1 Restoration Foot Balm in orange blossom honey fragrance.
Hypoallergenic, PH balanced and non-comedogenic.Natural and paraben-free.No dyes or pigment. No propylene glycol or mineral oil. No lauryl or laureth sulfate.Hand cream: 3.25 oz.Foot balm: 2 oz.