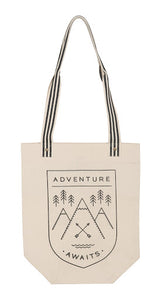 Danica Studio Adventure Awaits Tote Bag
100% Cotton
Imported

The Danica Studio Adventure Awaits Studio Tote is perfect for grocery shopping, picnics, camping, the beach, school, the gym and more! Its long handles and deep interior make it practical, while its unique surface design makes it superbly stylish.
The striped webbing handles are reinforced with brass hardware, making it sturdy enough to hold heavy objects like textbooks, binders and laptops. An interior pocket is perfect for your keys, wallet and cell phone.

Made from 100% cotton canvas and measuring 13 inches by 16 inches, this roomy tote bag is ideal for a weekend getaway, a morning at the farmer's market, or for simply carrying around your everyday essentials. It also makes a great craft bag, especially for toting around knitting supplies.

This lightweight yet sturdy tote bag can be easily folded or rolled up for slipping into a suitcase or backpack. Throw it over your shoulder with your camera for a day of sightseeing and exploring.

The multipurpose Adventure Awaits Studio Tote features a black emblem filled with mountains and evergreens against an unbleached background, beckoning you to get outside. It makes the perfect gift for the outdoor adventurer in your life.